AMMO² Launches Crowdfund to Revolutionize Ammunition Industry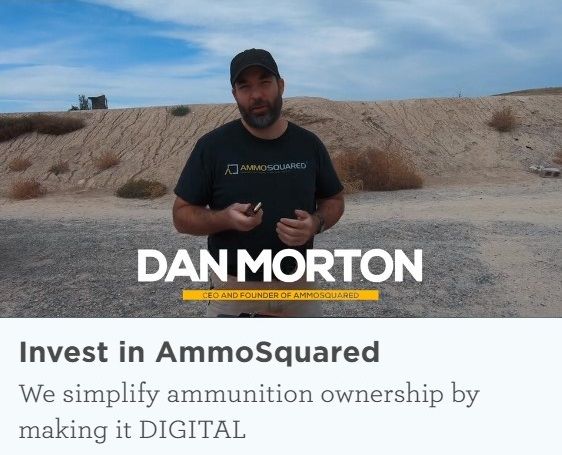 [Read the official Press Release.]
At AmmoSquared, we're doing something remarkable: changing the way 94m gun owners think about and manage ammunition. We're making it DIGITAL so it is more convenient to purchase, store, exchange and ultimately… own.
How is this possible?
We are combining the physical world of hard goods: ammunition, with the soft world of digital products.
Our Vision:  Every gun owner in America should have two forms of ammunition: physical that they store in their house and take to the range, and digital which is accumulating in the background, easily exchangeable, and deliverable on demand
Think about this: If a product is ordered online and before it is delivered, it only exists in a digital form to the consumer. It is a picture on a website or a line item in an email. While it exists in physical form in someone's warehouse, it is only made "physical" to the customer once that product is delivered – until then it is digital. While in digital form, the customer has options they wouldn't have once the product is delivered such as canceling their order, adding more, changing the color, or even changing the item ordered.
Our model includes innovations not seen in the ammunition industry before.
Customers purchase ammunition in small amounts over time via a reoccurring "drip" purchase schedule. They pick what they want and set their budget. It doesn't matter whether they are buying one box or one round at a time, it all goes into their inventory and accumulates over time. They can manage everything online and make changes whenever they want. Ammunition is warehoused by AmmoSquared until requested and then delivered to the customer.
Started in 2015, our small, family-run business has generated over $1m in revenue with an average customer spend of $45 per month. Today revenue comes primarily from ammunition sales but there is an opportunity to add more value to customers through additional products and services.
Our ultimate goal is to build what we are calling a "Digital Ammunition Exchange" where individuals can purchase, store, exchange, and sell ammunition all without ever taking delivery. They can trade into different calibers and profit off-price changes in the ammunition market with a click of a button and never have to store cases of ammunition in their garage. It will create a mechanism to smooth out the sometimes violent price swings in ammunition that primarily come from the political election cycle.
AmmoSquared is currently raising funds through equity crowdfund platform Wefunder to build this next generation digital ammunition platform.
We are issuing Series Seed Preferred Shares to accredited and non-accredited investors at a $4.5m valuation. At the time of our campaign launch, we already had 98 investors signed up and raised over $51k in investment capital.
Wefunder allows small companies to issue stock in compliance with SEC Regulation CF (Crowdfund) which means accredited and, more importantly, non-accredited investors (those that have less than $1m in assets) can invest.
We wanted to give our customers a chance to invest in the future of ammunition and help support AmmoSquared. Most of them are not accredited investors so it was important to us to choose a platform where anyone could invest. That is also why we set our minimum investment amount at the lowest level possible: $100 to make it easy for our customers to get in on the ground floor.
What other opportunities does your everyday 2A supporter have to invest in the firearms industry? Not many. There are a handful of large public companies such as Ruger, Smith and Wesson, and Winchester (through Olin Corp), but the ability to invest in small exciting companies are few and far between.
Starting today, small investors can purchase stock in AmmoSquared, a company that also happens to be making waves in the ammunition industry and changing the way gun owners think about ammunition.
Visit AmmoSquared's Equity Crowdfund Campaign on Wefunder