Great Gun Giveaway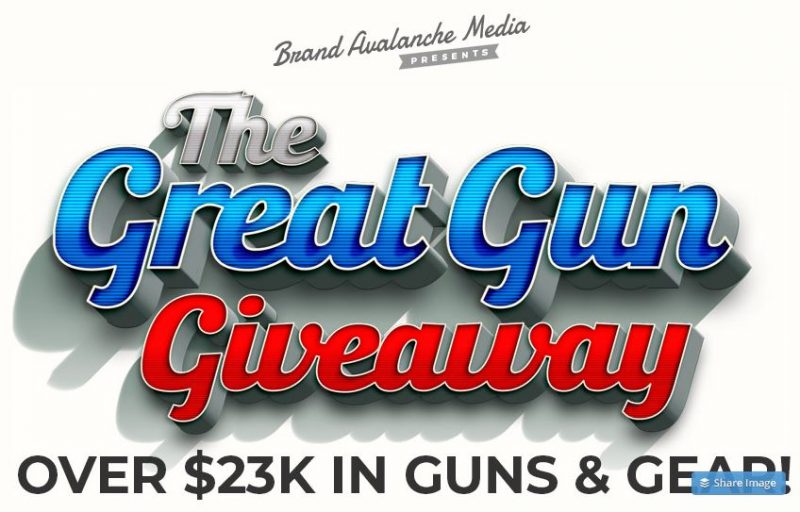 What do FN, Primary Weapon Systems (PWS), Seekins Precision, Springfield Armory, STI, Walther Arms, Wilson Combat and AMMO² all have in common? We're all part of The Great Gun Giveaway! This is contest is definitely worth entering. Not only are some of the biggest names in the industry contributing to the prize table, they are doing so in spades with a total of ten firearms, many different types of gear, and a year's supply of ammunition being divvied up between three lucky winners.
For long guns, Springfield's M1A SOCOM 16 CQB and the PWS MK118 Mod 2 showcase quality manufacture and feature sets inspired by the modern battlefield. And, demonstrating the versatility of the modern sporting rifle's operating system, the NXP8 from Seekins Precision pairs an 8" barrel with the .300 Blackout cartridge to create a very trim pistol platform that really performs.
Speaking of pistols, FN is offering the 509—the company's entrant in the U.S. Army's MHS trials—alongside Springfield's popular full-power concealed-carry option, the XD-S Mod.2 in .45 ACP, and Walther's red-dot- and suppressor-ready PPQ Q4 Tac. And if you prefer more steel in your fightin' iron, STI is stepping up with its new Hawk 5.0—a 2011-model, double-stack 9 mm. with a 5" barrel—and Wilson Combat has you doubly covered with its EDC X9 in 9 mm Luger—easily one of the most exciting custom guns of the past year, it combines the 1911's form and function with a 15-round double-column magazine—as well as the company's custom-tuned and tailored Beretta 92G Brigadier Tactical.
Of course, a gun giveaway is never complete without associated accessories, gear and ammunition, and here again, The Great Gun Giveaway is delivering as never before. AR500 Armor is providing an entire plate-carrier system with all the bells and whistles, and Comp-Tac is pitching in with a holster, belt, and mag pouch. Apex Tactical Specialties is contributing an enhanced trigger kit for the Walther PPQ, as well as one each for Glock and Smith & Wesson pistols. Crossbreed Holster's entire catalog is open to the winners since that company is contributing $1,000 in gift cards. Action Target's Auto Target system is a user-programmable reactive target that is not only a valuable training asset, it's just plain fun to shoot. Springfield Armory is adding more to the pot, including extra magazines, home décor for gun enthusiasts, and a Zero Tolerance knife. Also in knives and edged tools, Hogue will have folders, fixed blades, and even a tomahawk on the prize table. Vortex has some serious glass on the line in the form of the Razor HD Gen II-E 1-6×24 Riflescope. And last, but certainly not least, one lucky winner will receive a year's supply of ammunition in the form of a 12-month subscription plus free shipping from AMMO².
The Great Gun Giveaway has compiled over $23K worth of guns, gear, optics, and ammo from leaders in the outdoor and shooting industry. You can enter for the chance to win one (1) of three (3) awesome packages below. But you can't win if you don't enter. Registration ends on May 31st, don't miss your chance to be part of the Great Gun Giveaway.
Package 1: Springfield Armory/Crossbreed Holsters/AR500 Armor/AMMO²
Springfield Armory M1A SOCOM 16 CQB
Springfield Armory XD-S Mod.2 .45ACP
Springfield Armory XD(M) 4.5" OSP Full size 9mm
Three (3) Springfield Armory 7.62MM 20RD Magazines
Three (3) Springfield Armory 45ACP 6RD Extended Magazines
Crossbreed Holsters Gift Card
AR500 Armor Valkyrie Plate Carrier Coyote
AR500 Armor Level III PE plate
AR500 Armor Level III PE plate
AR500 Armor Level III Hybrid Soft Armor Plate
AR500 Armor Level III Hybrid Soft Armor Plate
AR500 Trauma Pad
AR500 Trauma Pad
AR500 Armor HSGI TACO Mag Pouch
AR500 Armor HSGI Double Decker TACO Mag Pouch
AR500 Armor QD IFAK (Coyote)
AR500 Armor EPIK IFAK (Coyote)
AMMO² One Year Subscription ($100/mo. plus free shipping)
Springfield Armory Zero Tolerance Knife
Springfield Armory Neon Clock
Package 2: Seekins Precision/Wilson Combat/FNH/STI/Hogue/Springfield Armory
Seekins Precision NXP8 Pistol
Wilson Combat EDC X9
STI Hawk 5.0 9mm
FNH FN 509
Hogue EX-F02 4.5″ Tanto Blade
Hogue EX 4″ Wharncliffe Blade
Hogue EX-01 3.5″ folder Drop Point Blade
Hogue EX-T01 Tomahawk
Hogue EX-01 3.5″ folder Drop Point Blade
Two Springfield Armory Bar Stools
Package 3: PWS/Wilson Combat/Walther/Vortex/Action Target/Comp-Tac/Apex
PWS MK118 Mod 2 Rifle
Wilson Combat Beretta 92G Brigadier Tactical
Walther PPQ Q4 Tac
Vortex Razor HD Gen II-E 1-6×24 Riflescope
Action Target AutoTarget
Comp-Tac Kydex Reinforced Contour Belt
Comp-Tac International Holster
Comp-Tac Twin Magazine Pouch Belt
Apex Forward Set Trigger for the Walther PPQ
Apex Action Enhancement Red Kit for Glock
Apex Flat-Faced Forward Set Trigger Kit for the M&P M2.0