New Feature: Weekly Square Deals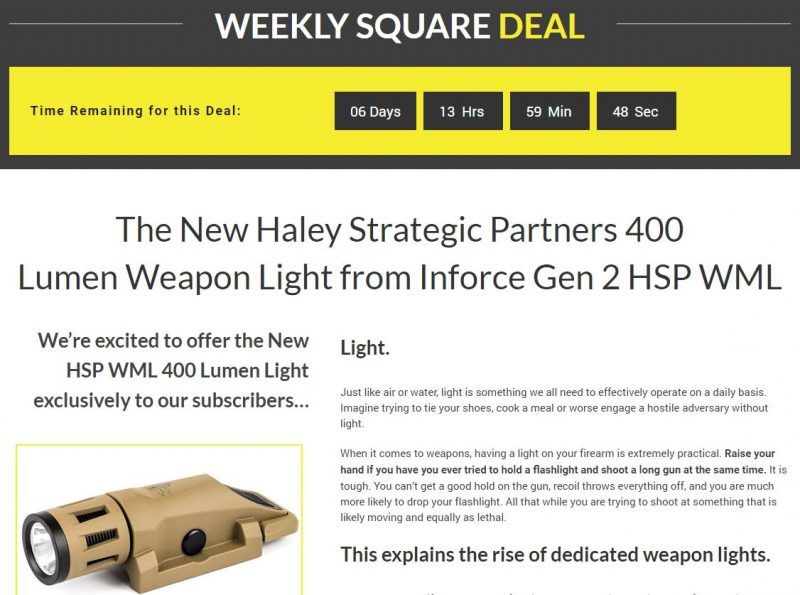 This week we launched a new feature: "Weekly Square Deals"
(A "Square Deal" is a good, fair deal and we're AMMO² so it is a little play on words… clever, clever eh?)
Okay so a funny name for a simple concept:
Give our ammo customers a way to buy gear that they can place in their inventory and get delivered with their usual "ammo drop".
We kicked off the first iteration of this in February by adding magazines and ammo boxes for straight purchases on our website. Since then, we've been gradually adding new offerings to the site including SR25, Glock and M&P mags. Ruger 10/22 and 1911 mags were last month's additions.
Since then, however, we've hit a philosophical brick wall: Do we want to continue in this direction and stock hundreds of different magazines and their variations along with, eventually, accessories, lights, and gun parts?
In other words, is our model providing substantially more value over that of an online superstore like Midway USA that offers dozens of variations of Wilson Combat 1911 mags for example, and you can pick out exactly what you want?
We recognized that for us to stock the hundreds of variations of magazines alone, we would move away from our core focus on ammo.  In truth, we never wanted to be a Midway or a Cabela's that stock everything under the sun, that just isn't our approach.
All that said, we started offering magazines because customers asked for ways they could add the gear they buy anyway to their ammo subscription. We still want to serve our customers and find ways they can use our unique ammo allocation service with gear. So we created the Weekly Square Deal.
This is a new approach for us and we think fits well with our "ammo savings account" based business model, but we want to test it out over the next few months to really be sure.
We love the fact that we can search out great deals on gear items like flashlights, optics, magazines, spam cans, clothing, accessories, and parts and offer them at a competitive price for a limited time. While we can't compete with the likes of Amazon and Midway USA on everything all the time, we can find special deals and beat them on a handful of items for a limited time.
There are some definite advantages for our customers:
First, you can pick and choose what you want to add to your box – if you don't see anything that tickles your fancy, then pass on it. If you see something you like, click the purchase button and we'll add it to your personal inventory until your next box goes out.
Second, the strength of this approach really shines when you pair with a Gear Credit Subscription: you can accumulate gear credits until you see something you like, then take the plunge. It is a much more cost-effective way to buy high priced items like lights and optics. It is essentially the same way you currently accumulate a case of ammo with us – a little at a time. The only difference is that the gear credits are sitting on your account waiting for something good to come along.  If for example, we offer a really sweet deal on a red dot optic or an AR upper that you normally wouldn't be able to swing financially  (or justify to the spouse)… voila! You can get it now by building up monthly Gear Credits.
It is a pretty unique way to buy gear and coupled with our unique way to buy ammo, you have a win-win!
The Weekly Square Deal we kicked it off with this week was a Haley Strategic Partners Inforce Weapon Mounted Light (HSP WML) with 400 Lumens (Gen 2). Our price of $110 beats the lowest price we could find online (it even beat out Amazon's $143 with their free shipping). When you add it to your inventory and get it delivered with your ammo box, you also get free shipping. Hmm $110 vs $143 both with free shipping… equals "no brainer".