Political Discrimination by the Banking Industry

Political discrimination in by large corporations is real – I'm a victim of it. If you run a business counter to mainstream "political correctness" you are systematically shut out of many of the tools small businesses depend on to thrive and grow:  including search engine and social media marketing, credit card processing, and small business loans.
As a small business owner and entrepreneur in the gun industry, I find discrimination by social media companies and financial companies to be abhorrent.  We live in America where we have a heritage of freedom, hard work, entrepreneurial spirit, and firearm ownership. This discrimination is not only against our American heritage and values, it purposefully pulls down companies in one segment of the economy and hinders their growth and expansion – it is like requesting more fuel so you can go faster but getting saddled with a boat anchor instead.
To address the financial related discrimination, I just finished writing two personal letters to US Senators Kevin Cramer (R-ND) and Mike Crapo (R-ID) to support S.821 "Freedom Financing Act". I offered my testimony and documentation related to the discrimination I have received by the banking industry. I have included my story and documentation below.
S.821 Freedom Financing Act
The "Freedom Financing Act" was introduced by Senator Cramer and has now been referred to the Committee for Banking, Housing and Urban Affairs which is chaired by Senator Crapo.  S.821 Freedom Financing Act was written to penalize financial companies that discriminated against firearms dealers.  Basically the wording goes something like this for banks:
"No member bank with more than $10,000,000,000 in total consolidated assets may use a discount window lending program if the member bank refuses to do business with any person licensed under section 923 of title 18, United States Code, who is in compliance with the law, based on concerns other than traditional underwriting and credit considerations.".
And for payment processors:
"No payment card network may, directly or through any agent, processor, or licensed member of the network, by contract, requirement, condition, penalty, or otherwise, prohibit or inhibit the ability of any person licensed under section 923 of title 18, United States Code, who is in compliance with the law, to obtain access to services or products of the payment card network because of political or reputational considerations."
Making those changes to banking regulation would be a good start.
So far, my company AmmoSquared LLC, has been discriminated against directly by one payment processor (Stripe) and two banks for capital-related requests (Quickbooks Capital and BlueVine Capital).  Below I will share the actual documentation related to our rejection for services based on our industry. In my personal letters, I have offered these rejection letters to both Sen Cramer and Sen Crapo to use as examples of political discrimination in order to document why we need to get this bill passed.
Credit Card Processor Discrimination
We started AmmoSquared in September 2015 and like many small eCommerce businesses, went with Stripe as our payment processor because it was easy to integrate into our website and the fees were reasonable.  On July 1st we received this letter from Stripe:

As many customers from that time remember, we had a panic attack and needed to scramble to find a new payment processor because that meant that we had to get everyone off of Stripe and over to a new payment processor within 14 days. That was no easy task and involved HOURS of manual work exporting, importing and setting stuff up in our software. Even then when the 1st of the month rolled around we had boatloads of errors because we didn't do the transfer correctly and had to ask customers to re-enter their cards. I believe this was triggered once we went over $10k a month in credit card processing because we got on Stripe's radar – we didn't hear a peep about it beforehand but then again I should have checked the "legalese".
Here is a link to Stripe's "Restricted Businesses" List. As you can see from the explanation from "Chip" it sounded like their hands were tied and the policy was coming down from higher up (ie: Stripe's banking partners). While I want to believe that is true, if you look at the terms and conditions for just about every similar tech company: PayPal, Square, Braintree, etc. They show similar discrimination against doing business with companies in the gun industry. Though some of the wording is similar so it very well could be based on something Visa or Mastercard or some other global entity requires. (Honestly, it doesn't matter where it comes from it should be illegal to discriminate against a company that is selling a LEGAL product.)
Small Business Loan Discrimination
So to continue the story and provide more evidence of discrimination I will present two different rejection letters issued to us after we sought capital in order to expand our operations.
One from Quickbooks Capital in November 2017: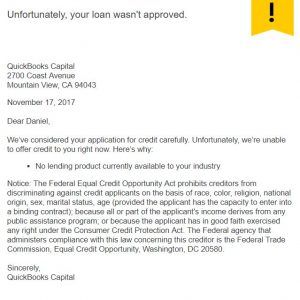 The other from BlueVine Capital (parent company is Celtic Bank) in April of this year.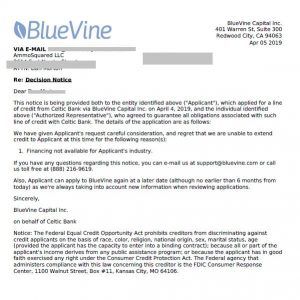 If you click on the thumbnail you should be able to read the letters clearly. In both cases, they state that "Financing isn't available for your Industry" or something to that effect. That means regardless of our credit history, need growth prospects, or any other criteria they would still decline our request for capital simply because we are in the gun industry.
My hope with publishing these letters online is that this problem will get some attention and we can get S.821 passed to stop the discrimination of gun-related companies. As many of us know in this industry – the deck is purposefully stacked against us. For the gun industry, it is like trying to swim upstream against a current. However, even with that resistance our industry is responsible for 311,000 jobs and $52.1 Billion in economic impact according to the National Shooting Sports "Firearms and Ammunition Industry Economic Impact Report for 2019". That is because this is America and Americans shoot… a lot!
So if you want to see more innovation, more products and more companies in the gun industry follow S.821 and make your voice heard. Let's keep the heat on our elected officials so they can focus on the issues that matter to us and not the political circus that seems to occupy 90% of their time!