Purple?!? I'll take it!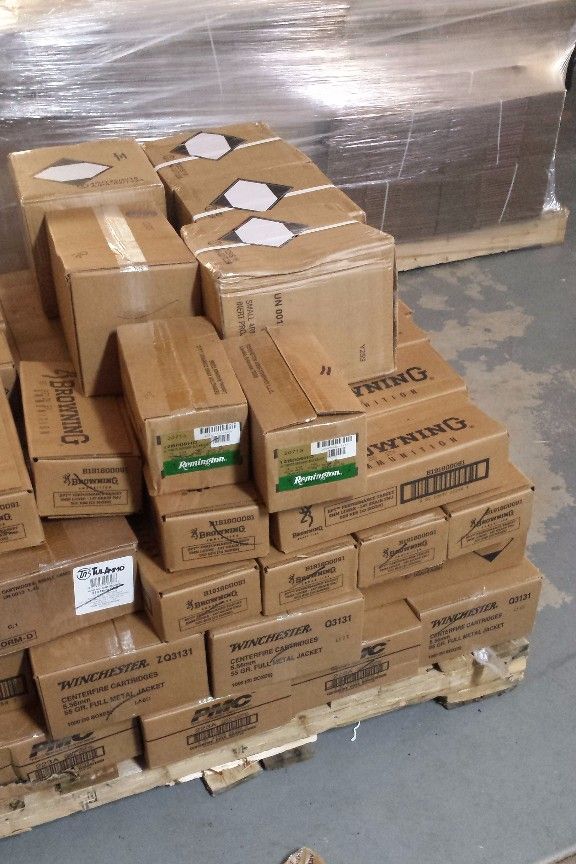 A few years back Danielle and I were taking our 10 lb Chihuahua for a "potty walk" around the block… (she was a bitter toothless little thing… we've since moved on to a real dog). Anyway, we saw a new Jeep Wrangler, which was purple. At the time I remember thinking "who would buy a purple Jeep?" (I was a Jeep owner myself and thought it is very unmasculine to drive a purple Jeep. Thinking back now, the owner could have been a woman for all I know…). As I was pondering my own philosophy on masculinity, I saw the license plate frame and it read:
Purple?!?
I'll Take it!
It made me laugh out loud because I imagined some guy that really wanted a new Jeep Wrangler and debated overtaking the only one on the lot (and hopefully didn't question his masculinity in the process) with his desire for a new Wrangler tipping the balance over color.
Anyway, I relate this story because that's how I felt last week when our newest pallet of ammunition arrived and I opened a few cases of Winchester 40 cal…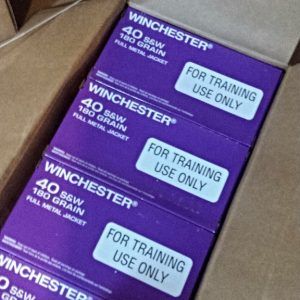 I'll Take It!
I don't really know why Winchester thought it was a great idea to make purple ammunition (the cases are nickel with a purple tint to them). Word on the street is that it will help LEO's to differentiate their training ammo from their defensive ammo (really???). It doesn't really matter to me what the color of the brass is and it might even be useful in identifying my brass when I go to collect it out in the desert or after an IDPA match. Either way, it was a good deal for us and we will include some with our boxes if you have a subscription for 40 Service Grade (We still have a ton of Winchester Ranger left so that will also be making an appearance in our 40 cal selection).
The point I'd like to make here is that with AmmoSquared you get the ammunition you might not have thought to buy otherwise. You get to try out a variety of stuff – at a good price.
It is a unique service in many ways but one way that we haven't stressed very much in the past is the "curated" aspect to the service. Like a hot sauce of the month club... we hunt around and pick up great deals on quality ammunition. You get to benefit from reasonable prices and quality (sometimes purple) ammunition.
We have a wide mix of customers from avid shooters to brand new gun owners. Everybody signs up for their own reasons, but we're starting to see some common threads. Some people don't have the time or desire to hunt online or around town for the best deals, others just don't care what ammo they shoot (as long as it works) and they just want to get out to the range. Still others like the fact that they can buy a little over time and get it delivered when they have a bunch – the set it and forget it, customer.
Finally, some subscribers are new to shooting and don't know a good deal from a poor one. They sign up with AmmoSquared because we help take the guesswork out of buying ammunition.
Buying ammo locally can be like trying to find a good deal at Eddie's Used Cars... so much is overpriced! I know ammo prices, so I chuckle when I walk into a local gun store and their "sale price" is still 25-33% higher than what we are offering. That's not a markup, that's robbery.
Granted, the price isn't all there is to it either. There are some cheap, decent quality plinking rounds that work just fine. We do include some of those in our selection when we can't find higher quality brands at a reasonable price.
When it comes to hunting or defensive rounds, there is an important balance between value and capability that we (and any other shooter should) look for. You'll never see PMC Starfire or Magtech JHP in our defensive offerings…. they exhibit horrible performance for a defensive round. (You can check out these ammo tests they did at Luckygunner. Yes, we sometimes visit their site.. don't tell anyone though!).
Instead of the cheapest junk, we can find, we give our subscribers the same stuff we carry in our guns… HST, Barnes, Critical Defense, Corbon, maybe even some Gold Dots (hint, hint).
So to wrap up this rather long monologue… when it comes to buying ammunition, we've got your back.
You'll see a few new brands this month because we're balancing the value/quality equation. When you get your box you'll have a mix of brands to try out. We do try to mix it up and not give out all the same brand if we can help it.
[While we won't send you anything that we wouldn't shoot if you feel strongly about a brand (good or bad) be sure to use the Ammo Preferences text box in MyAccount to tell us what you like and don't like.]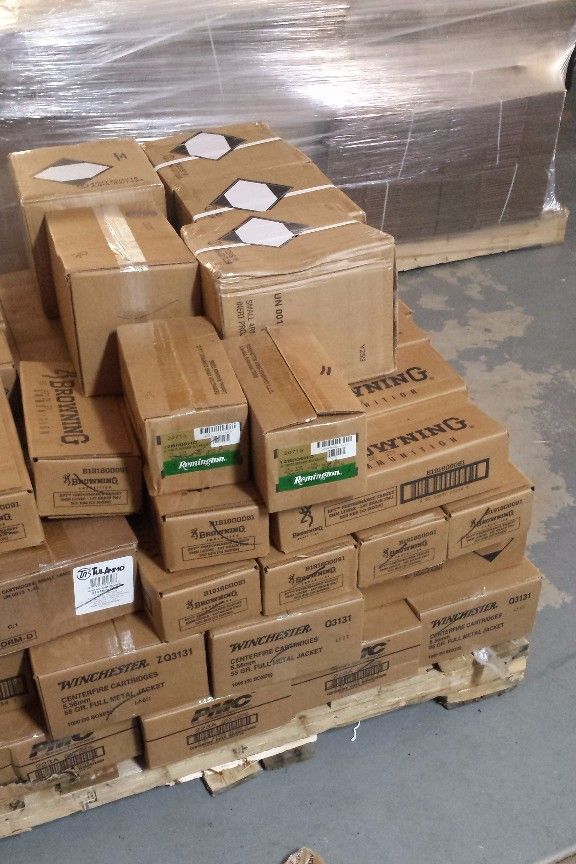 Yep, that is a TON of AMMO. No, really, it is a ton when you add the other two pallets we got this month…
Okay, now we have some Good News and some Bad News…
First the good news:
We've got some new calibers to launch, plus a bunch of new variations and brands (like the purple Winchester 40 cal mentioned above). We've got some 22 Mag, 308 Value Grade (steel cased), 20ga Slugs, and yes 50 BMG (service grade and match grade). Plus some other stuff on deck.
Now the bad news…
We're not quite ready to add them to the site so I don't have links for you yet. We want to do a special email later this week announcing the inclusion of 50 BMG and our 1-year anniversary (which was actually last month – but man, we've been busy!). To tell you the truth, our marketing (social media and otherwise) takes a nosedive around the first two weeks of the month as we are busy boxing up orders.
That is why we are so glad to see our happy customers posting reviews and pictures online. If you did so this month we want to give you a big hearty THANK YOU! We have a little drawing each month for giveaway items and ammunition, and there is still time – so if you feel like posting something, go for it!
I've probably lost half my readers by now so I'll close this out and say keep your eye out for our one-year announcement and new caliber email… coming soon!
Take care!
-Dan
(and of course Danielle and the rest of the AmmoSquared Team… )
PS: Here is our current "real dog" Rango… he's a cross between an annoying younger brother who wants you to play legos every 5 minutes and a needy girlfriend who isn't happy if you are in a different room.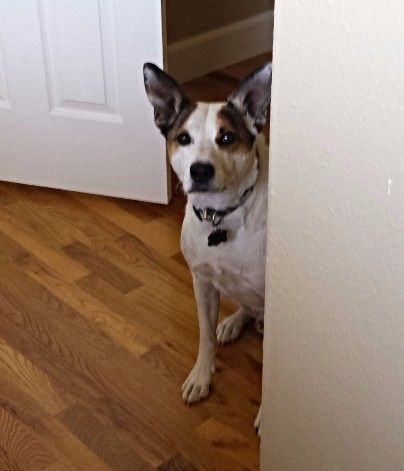 "… I see you… time to get off the computer and throw the ball to me…"