Sample Ammo Packs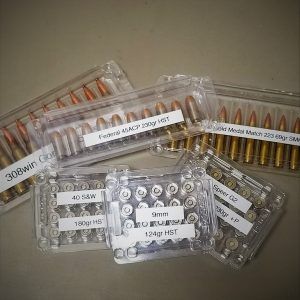 We're trying something different.
Around here we don't mind testing new ideas. A while back we had a customer request "sample packs" of match rounds. The idea was that he wanted 5-10 rounds of a particular match caliber so he can try different options in his guns. That got us thinking about sample packs and reminded us of our roots when we would remove a few rounds at a time and vacuum seal them in a bag. While we can't go back to that for a number of reasons, we do want to experiment with sample packs for convenience, variety, and cost savings.
This month we were able to lower the minimum quantity needed to ship by using Tac-Pac ammo containers. For example, in the past, we would only ship out boxes of 50 rounds for our most popular defensive handgun rounds (380 ACP, 9mm, 40 S&W, and 45 ACP) this month if you had a multiple of 20 you might have received a container of factory ammo in that quantity instead. We were also able to mix in other brands that also had a quantity of 20 and vary the selection a little bit more than we have done in the past. In addition to our standard fare of HST we were able to include some Golden Sabre "Black Belt", Winchester Ranger Bonded, Speer Gold Dot G2, and even some of the new Federal Hydra Shok Deep to boxes this month.
For bulk rifle rounds, we have also done this with 5.56 62gr M855 "Green Tip" rounds and M856 64gr Tracers. Since these are standard military rounds that can be purchased in bulk we were able to create our own 20 rounds packs for customers this month.
The last area we are going to experiment with is premium or match grade ammunition. Just like the original suggestion that started us down this path, we can now mix and match to a finer degree by using 10 round packs. That means if you would normally be getting 20 rounds of just one brand of ammo, now you might receive two 10-round packs of different premium grades. When most match grade and quality hunting ammo is north of a dollar per round, you can get more variety in your subscription this way.
This also means we'll be able to ship out more inventory. In the past, if someone's inventory didn't round to the nearest box we would have to leave it behind or buy up to the next full box. If we use 10 rounds as the lowest multiple, it means our customers will get more of their ammo shipped when it is shipping time and less will "roll" or be left behind in their inventory.
All good things.
If you have an opinion about how we should (or shouldn't) use these sample packs please let us know in the comments below!