Winner 2019 Tax Day Giveaway Glock 43X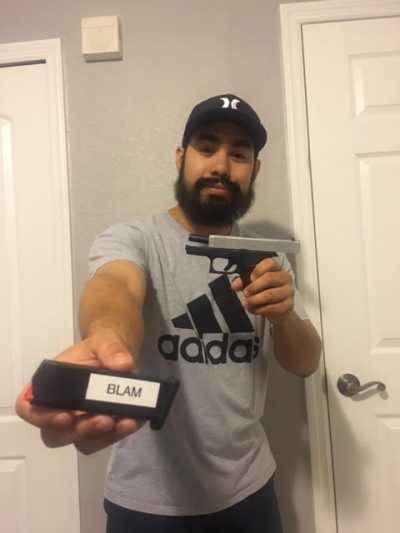 We love to give away guns!
Honestly. It actually gives us an excuse to buy something we would otherwise have bought for ourselves and check out (though not shoot – each gun we give away is in new and pristine condition). That was certainly the case with last quarter's gun: The Glock 43X. This series of pistol was announced just before the SHOT Show in January along with the Glock 48. Once our distributors allowed us to pre-order we figured the G43X and G48 would be great to check out and procure for a future gun giveaway. The G48 was so cool that our lead trigger puller and box stuffer, Dan, usurped it for his own purposes. That left the G43X for our Q1 Tax Day Giveaway.
On April 15th, "Tax Day", Louis Nodarse from Miami Florida was the lucky winner of the "BLAM" pistol (aptly named because the serial number started with the letters B-L-A-M).
As much as we would have loved to keep the G43X "BLAM" pistol for our own company armory (we don't actually have one of those – but one can dream), we figured one of our customers would enjoy it so much more. That is how it goes when you give away guns: here today and gone tomorrow. But if it puts a smile on someone's face then it is all worth it!
So who will be next? Our Q2 Gun Giveaway will finish up at the end of June and the lucky winner will receive a Sig P365 along with a spare 12 round mag (which is necessary to shoot that tiny gun comfortably if you have medium to larger hands!). After that we're looking at all kinds of options so who knows what we'll come up with next! 🙂