Ammo Cash Cards, Polymer Ammo, and Other Good Stuff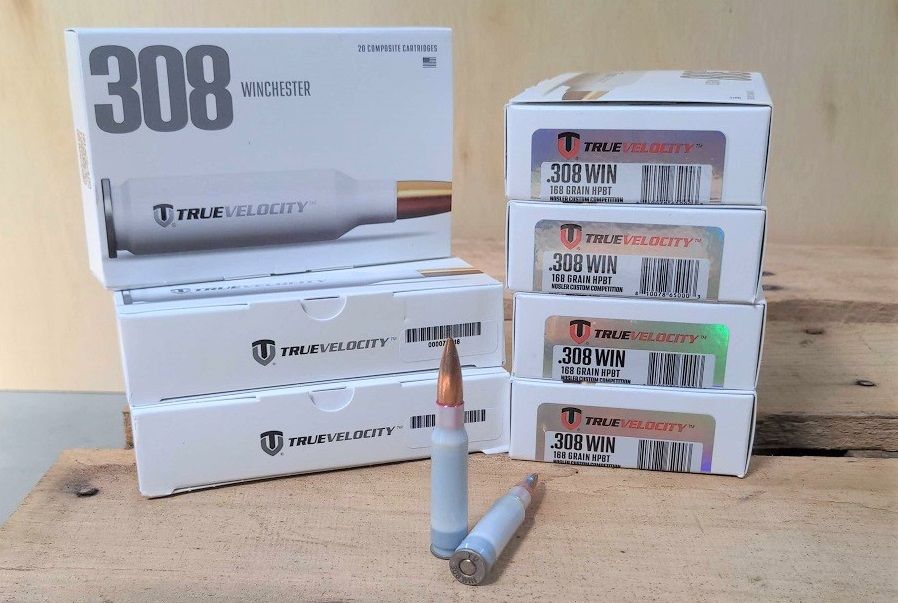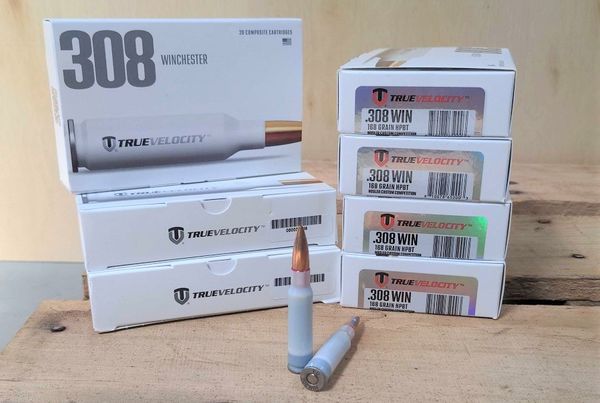 Time for an update from the flag waving, gun shooting, beer drinking guys and gals at AmmoSquared…
WHAT'S NEW
Gear Crate Update
A couple of weeks ago we launched our new Gear Crate feature with a bunch of gear already added. Since then, we've been trickling in new gear items.
There are now a couple of "swag" items on the gear store: our official grey and black AMMO² logo hat and grey logo Performance T-Shirt (65% poly / 35% Cotton). These can be added to your gear crate any time and shipped out with your next ammo shipment. We also have plans to add more variety in the month ahead in the form of new t-shirt designs, patches as well as stickers.
We still have a bunch of gear to add to the site, mostly different brands of magazines. We're also looking for more types of specialty ammo that doesn't fit our subscription model. One company we're now offering in a special purchase format is True Velocity, with their revolutionary polymer cases.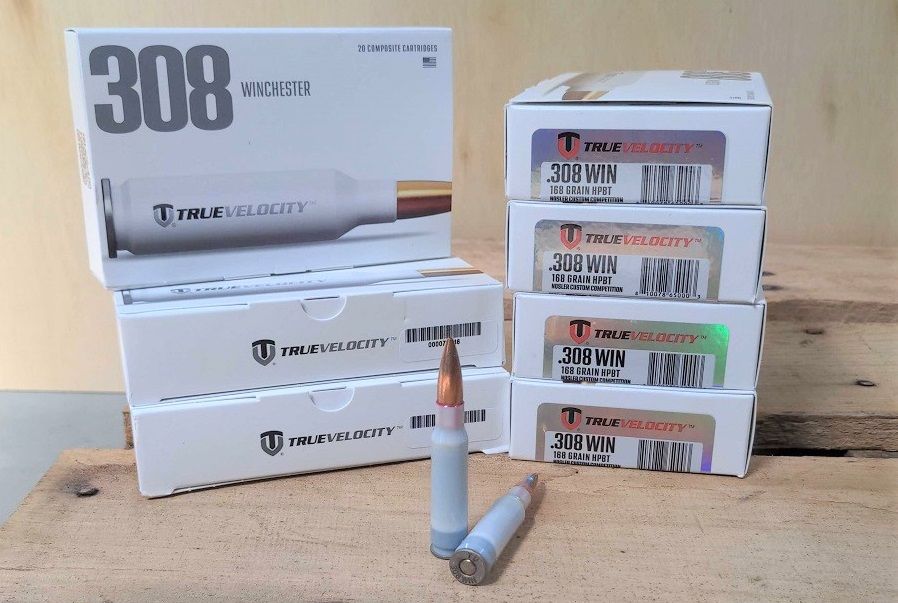 We purchased some at retail and are offering it as a special ammo purchase with no markup so you can add it to your crate and try it out. We will also be doing some testing like we did with the Venom 9mm a couple months back to see how it performs.
Ammo Cash Cards
We've started including at least one "Ammo Cash Card" in every outgoing shipment, so you should see these show up in your next box. Here is what they look like: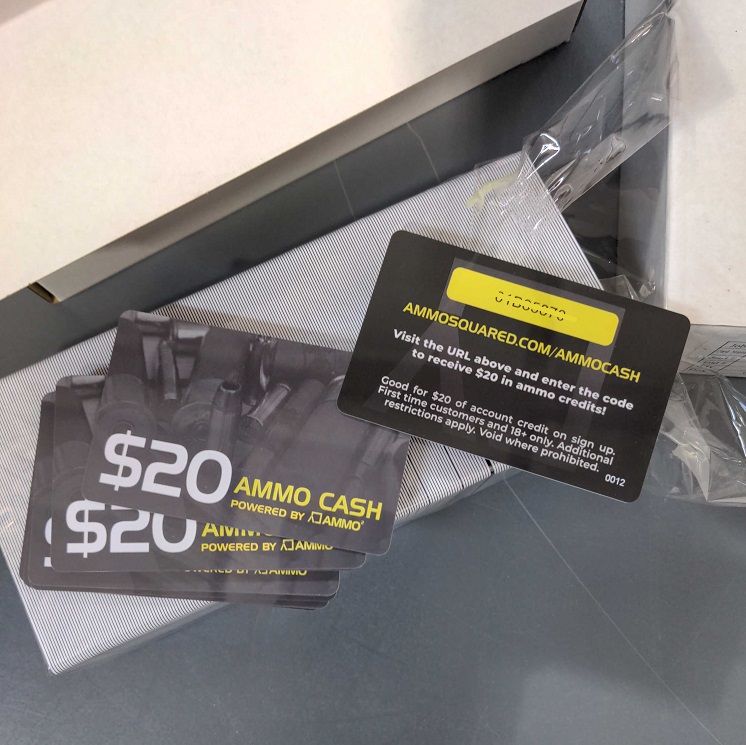 These are essentially AmmoSquared gift cards valued at $20. They can be passed around to shooting friends and family so they can pick up some free ammo and try out AmmoSquared in the process. Each card has a unique code on it that can only be used once. If you would like to request additional cards to hand out, we're happy to send you some! Just shoot us an email at [email protected] and we'll drop them in the mail for you. (Definitely reach out if you are a firearms instructor… these could be a great freebie item to hand out to your students!)
Skip the Ammo Picker Flow
Another enhancement we recently rolled out was the ability to skip the ammo pick flow if you know exactly what you want. Now you can add ammo directly from the Ammo Price page. This means you don't have to go through the regular ammo flow, which is great for beginners, but if you already know what you want to add to your subscription it can be a bit tedious. Now there is another option. Here is a screenshot of what that looks like: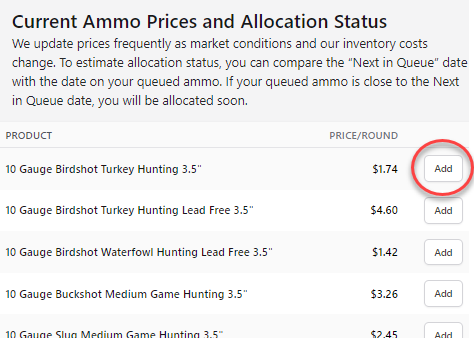 Other Random Stuff
We've spent a large portion of the past month fixing bugs and making small tweaks to the system. You can read all about those on our Changelog.
We're also getting in more and more ammo every day and cutting down our queue lead time. We're now under 30 days for 9mm Practice. Yeah! Plus we also recently lowered the price in case you missed that email announcement. Here are some examples of where we're at today on popular calibers:
9mm Practice: $0.42/rnd
223/556 NATO Practice: $0.49/rnd
40 S&W Practice: $0.42/rnd
38 Special Practice: $0.60/rnd
45 ACP Practice: $0.53/rnd
We took a look at 87 of our most popular SKUs and adjusted them if they needed to be better aligned with the market today. We'll continue to monitor prices and adjust as needed but we feel these are pretty decent for the market today.