Fall "G" Update: Gun Shows, GAAT Project and Gun Giveaways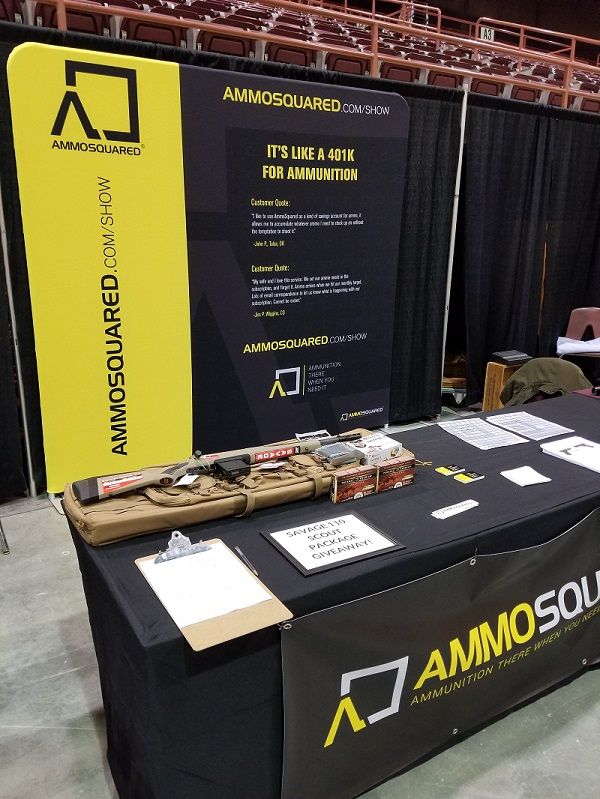 Amazing how time flies! A lot has been going on with the crew at AmmoSquared and I wanted to run through some of the highlights before another couple of months go by and we find ourselves in January.
This update is has been brought to you by the letter "G"…
Gun Shows
We attended a couple of gun shows this year – something completely new and foreign to us. (We were scheduled for three but had to cancel our Salt Lake booth due to a personal emergency). As gun owners, we have attended many gun shows in the past, but actually being there representing AmmoSquared was something new for us. Overall we would say the time/money/effort didn't really justify the result. While it was good to get out and talk to people about our company, we didn't see very many new subscribers. Of course, it does take a few exposures to a new concept like AmmoSquared before you take the plunge and sign up. We had many good conversations and got to hang out with people that love the hobby as much as us so that was a plus!
Here is a pic of our booth last weekend…. Pretty slick eh?
GAAT Project
The Guns + Ammo Accuracy Testing Project ("GAAT" for short) is just starting to take shape. We have finally been able to upload some videos to Youtube and will continue to crank them out throughout the coming months. It took a little bit (a lot) of effort to get the "kit" necessary to do the testing right – then means the Ransom Rest, Chronograph, targets, cameras, etc. Some stuff we did have and other stuff we had to purchase. Then we had to find time to do the testing – which has now been completed for 29 brand and bullet weight combinations for both the Glock 19 Gen5 and Gen3. Now it is a matter of creating the videos putting the data on the site. We have a dedicated page at ammosquared/GAATproject that will evolve over time as we add data and videos to it. Also, check out our YouTube channel for (hopefully) daily video updates. We have two videos up right now with more scheduled to hit daily for the rest of the week. We'll post them as fast as we can make 'em!
As we work through these 56 remaining videos we'll try to alternate a mix of defensive and practice rounds as well as back and forth between the Gen3 and Gen5. At the end of it you should have a pretty comprehensive set of videos to choose from. Here are our first two both on the Glock 19 Gen3:
Glock 19 Gen3 Accuracy with Federal HST 147gr
Glock 19 Gen3 Accuracy with Federal American Eagle 147gr FMJ
Hopefully, these videos are useful to you and the more there are with data to compare across platforms and across brand lines then the more interesting this will be. If you have any suggestions or comments please add them to the videos. We have already heard from one viewer who suggested we change the way we start the test as a way to hopefully reduce the first round flyer phenomenon.
Gun Giveaway(s)
Savage 110 Scout Package Year End Giveaway
We are part of two gun giveaways at the moment. The first one is our own Savage 110 Scout rifle package. This is for our final 2018 quarterly gun giveaway and will consist of a Savage 110 Scout in FDE chambered in 308. A Burris Fast Fire 3 red dot optic to mount on the scout rail, a Drago FDE case to put your shiny new rifle in to protect it from sand and dust, a spare magazine from Magpul, and two boxes of match grade 308. This package has an MSRP of $1,321 so we are really pulling out all the stops this time! If you have been a customer anytime during the year you get one entry for each month you have been a customer. If you aren't a customer and you are on our email newsletter list, then you also get an entry. We'll announce the winner on Sunday, January 6th.
BTW: if you are curious why we chose the Burris Fast Fire and this Scout rifle combination, you can blame this video from Patrick E. Kelley. It shows him breaking clay pigeons in the air with this combination. It is pretty amazing actually. Take a look:
The second gun giveaway we are part of right now is being hosted by GunProDeals who is giving away a Sig P320 M17 in 9mm. Other sponsors include Alien Gear, Olight, and Armslist. We are providing 1,000 rounds of 9mm Service Grade ammo for the promotion.
Here is the info on that giveaway. Click the image for a link to the entry form: