New Website Update and Preview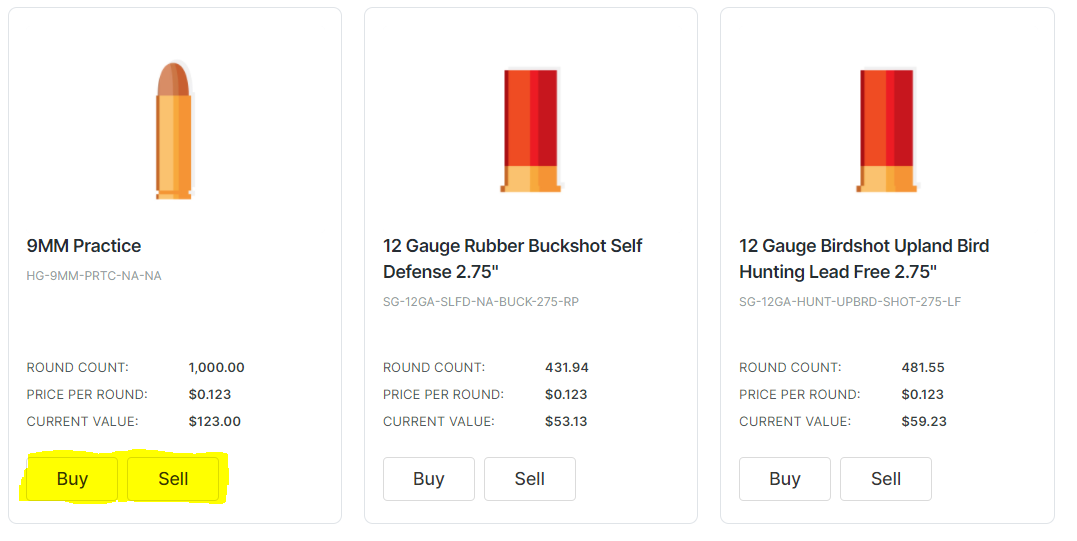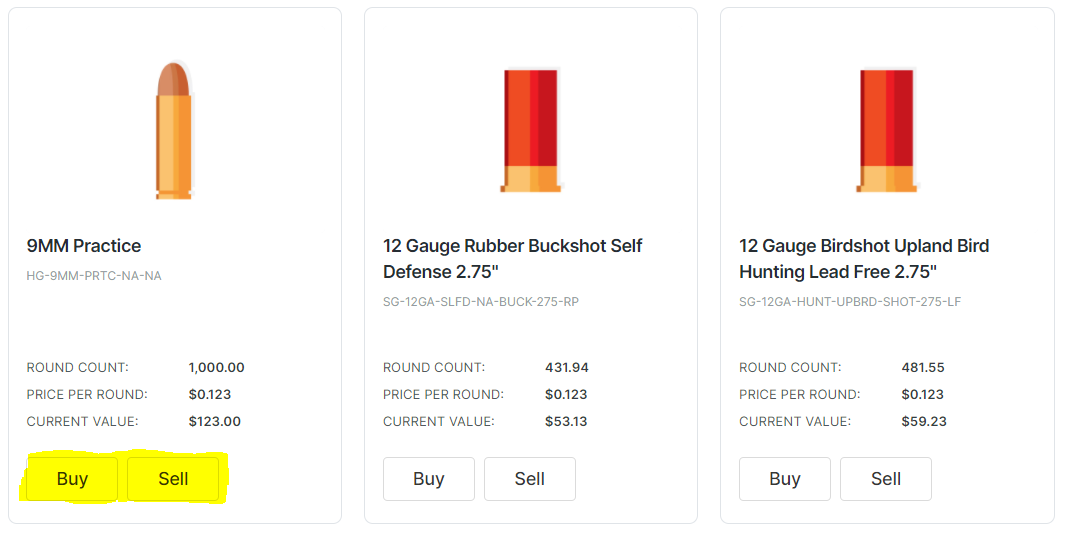 Hey Folks,
The time is nearly here! Our new custom web app has been a huge project for us and we are nearly ready to start migrating customers over to the new platform. In this post I want to run through some of the changes and include screenshots so you can get a flavor of how things will work in the future. I'll also give an update on timing at the end.
Let's get rolling!
-Dan
Caliber Naming Conventions
One big change that we'll be making (and have already started implementing) is the naming conventions for the ammo that you are signed up for. In a nutshell, we are simplifying our calibers and moving away from bullet weights and toward ammo purpose instead. The reason for this change is that it will streamline the sign-up process and make it easier to use our service overall. Now you just need to select WHY you are using the ammo (its "purpose") and we can handle the rest. This is especially beneficial to new shooters, or those that are unsure about what grain weights, shot sizes, or bullet type are ideal for their intended use.
Here's an example:
Old SKU: 3006-HNT-150-0 in English: 30-06 Hunting 150gr
Vs.
New SKU: RF-3006SPR-HUNT-MED in English: Rifle 30-06 Hunting Medium Game
This gives us a better idea for what you plan to do with the ammunition and it is our job to fill it correctly. In this case the purpose is to hunt Medium Game such as deer, antelope, etc. If you were subscribed to this, instead of being limited to just 150gr like the old way, in the new system you might receive 155gr or even 165gr – as long as it is appropriate for the use you selected.
Alternatively, if you knew you were going to hunt Elk or Bear (ie "Large Game") then you would select this option:
RF-3006SPR-HUNT-LRG in English: Rifle 30-06 Hunting Large Game
This would get you heavier bullet weights in this caliber such as 180 and 185 which would be more appropriate for your use.
Ammo Purpose
Also to streamline ammo selection, we've categorized all calibers into FOUR main purposes: PRACTICE, SELF DEFENSE, HUNTING, and COMPETITION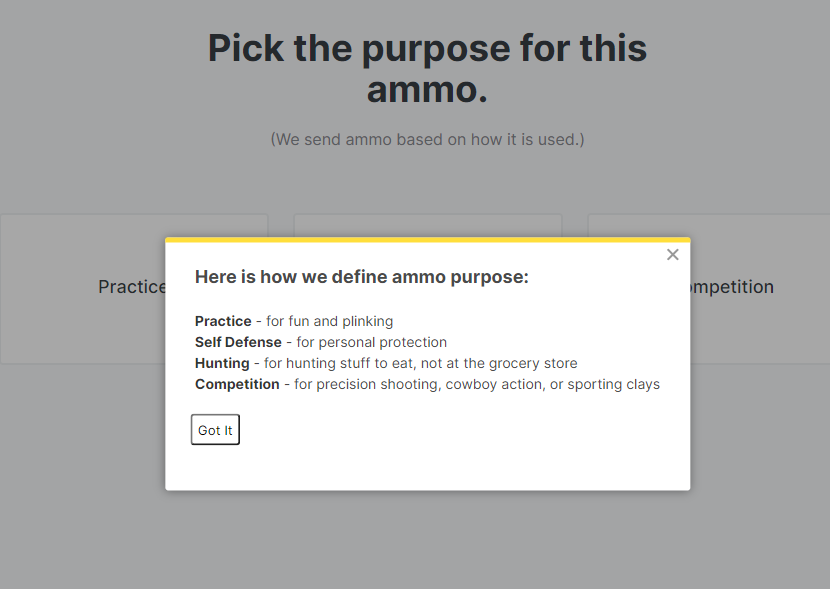 Additional Ammo Features
Once you pick your purpose, depending on caliber, you may be presented with optional features for that caliber and purpose to further refine your ammo selection. In the hunting example above an additional feature could be LEAD FREE ammo. Other options for other calibers might be SUBSONIC, STEEL CASED, MATCH GRADE, FRANGIBLE, HIGH VELOCITY, SPORTING CLAYS or COWBOY ACTION as additional options.
For example here is what you'd see if you picked 9MM PRACTICE:

Multiple Ammo Crates
In our new system, a "crate" is where both your subscription and your ammo inventory live. The beauty of this change is that you can have multiple crates with different calibers, budgets, shipping triggers, and even different shipping addresses (if you were to ship to friend or relative for example). This makes the service so much more flexible and "finetunable" – is that a word? Well it is now 😉
Take a look at an screenshot from my test account: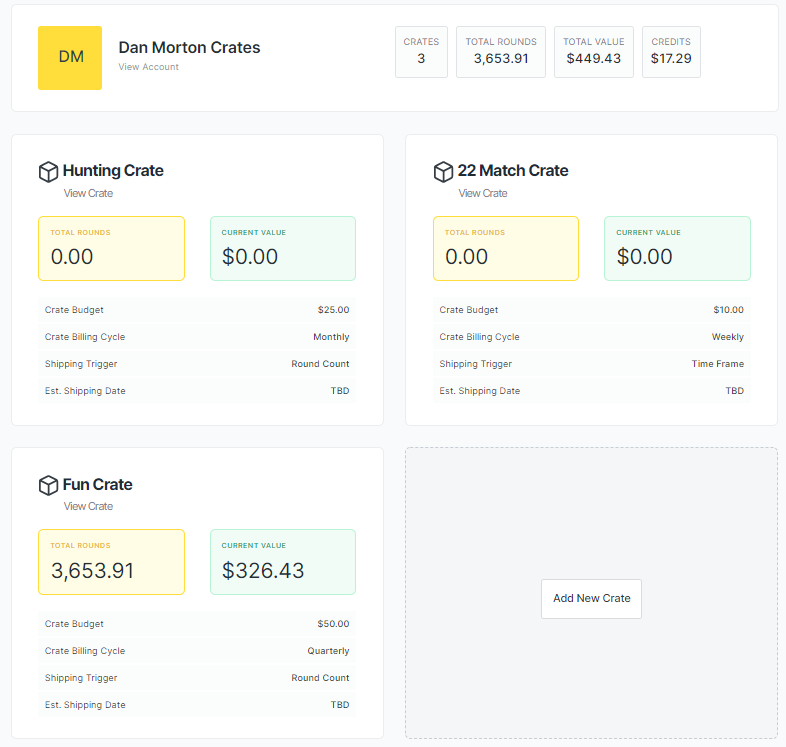 Oh and you can NAME your crates into anything you like so you know always know why you set it up in the first place. Also note how each crate will now show the number of rounds and the total value so you have a easy reference for your ammo accumulation.
Buy Sell Pause Start
In this last section I wanted to highlight a couple of really cool features we added…
The first is one that we have offered all along but was always a pain in the butt… The ability to sell some of your inventory or buy more (to round up for example). In the past, if you wanted to do either of those, you had to contact our customer service team. Now you can do it on the fly whenever you like! Every ammo caliber in your inventory will have a buy and sell button that you can use to either, well, buy or sell that caliber: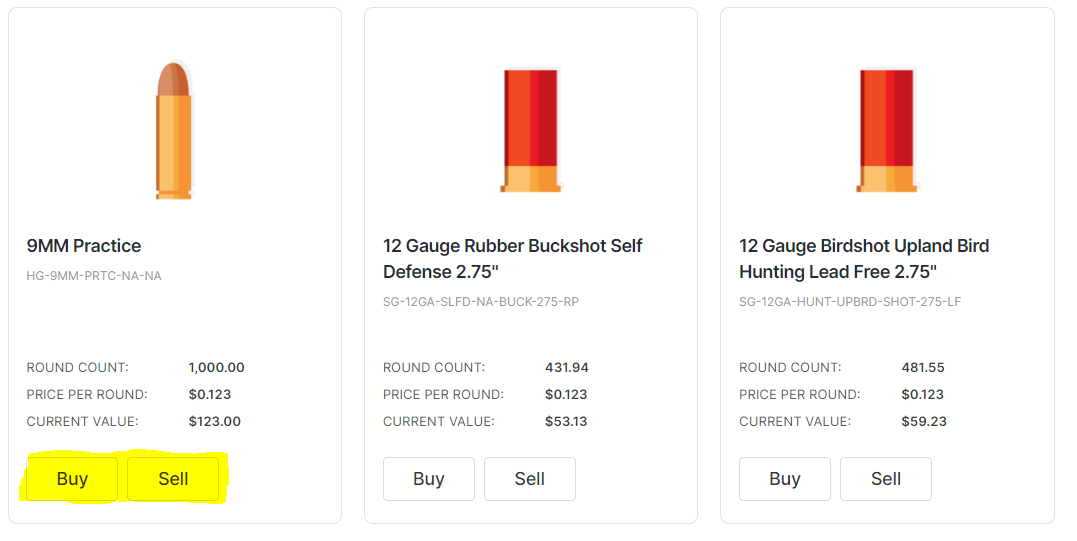 (No those aren't the REAL prices of that ammo! We're not THAT amazing.)
Another unique feature that we're including in our new platform is the ability to pause certain calibers within your subscription. This isn't removing them – you can always do that in the "Edit Crate" section. Instead it is designed to allow you to pause the money going toward a caliber. The money will still come out of your bank but instead of flowing into that caliber, it will flow into an account credit instead. This way you keep the same ammo budget but then bank the money for use down the road on more ammo of another caliber, special purchase ammo, or gear.
Here's what that looks like: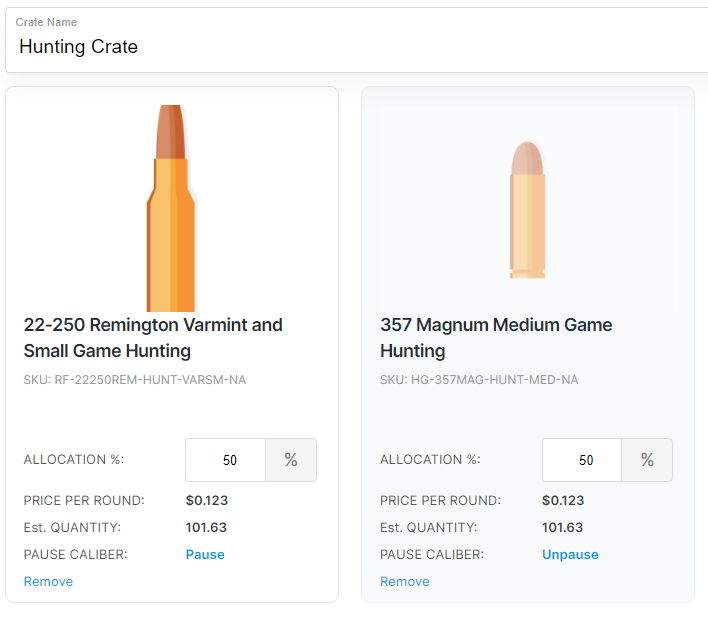 In the example above, I have Paused my 357 Magnum Medium Game Hunting allocation while keeping my 22-250 active.
Lastly, for now, another feature I'll mention is actually highlighted in the screenshot above. That is the ability to assign a PERCENTAGE of your budget toward each caliber. When you do that, your ammo budget remains the same and the percentage determines how much ammo you get of specific calibers. You can change that percentage any time you like and fine-tune your ammo "portfolio" until your heart is content.
With this new change, you can put 5% toward a caliber you don't shoot very much, 55% toward something else, and have another 40% available to add a new caliber for example. The total always needs to sum to 100% and won't let you move forward until you do, but we'll have helpful calculations in there as well so you know how many rounds you are getting (at whatever the current price is) with each percentage.
Launch Update
We were originally targeting the end of January for the migration but due to recent events in the news, we decided it would be wise to move our new platform off of Amazon AWS, where we originally built it. We're working on migrating over various components including our domain name and email to a more robust host. That set us back a couple of weeks, but we're still aggressively pushing forward because the new web app will be a game-changer for us and our customers.
Right now we've frozen all-new subscriptions and can only make limited changes for existing subscribers. Once the new website is fully migrated over for existing subscribers we'll start opening up again to new subscribers (as soon as we can reasonably do given the ammo supply situation – that is the other wild card here).
If you aren't a subscriber and would like to join, just add your name to the waitlist on our homepage and we'll start bringing over new subscribers as soon as we can!