Pre-Christmas Update
We've got some new updates headed your way on this snowy (at least for us) pre-Christmas week…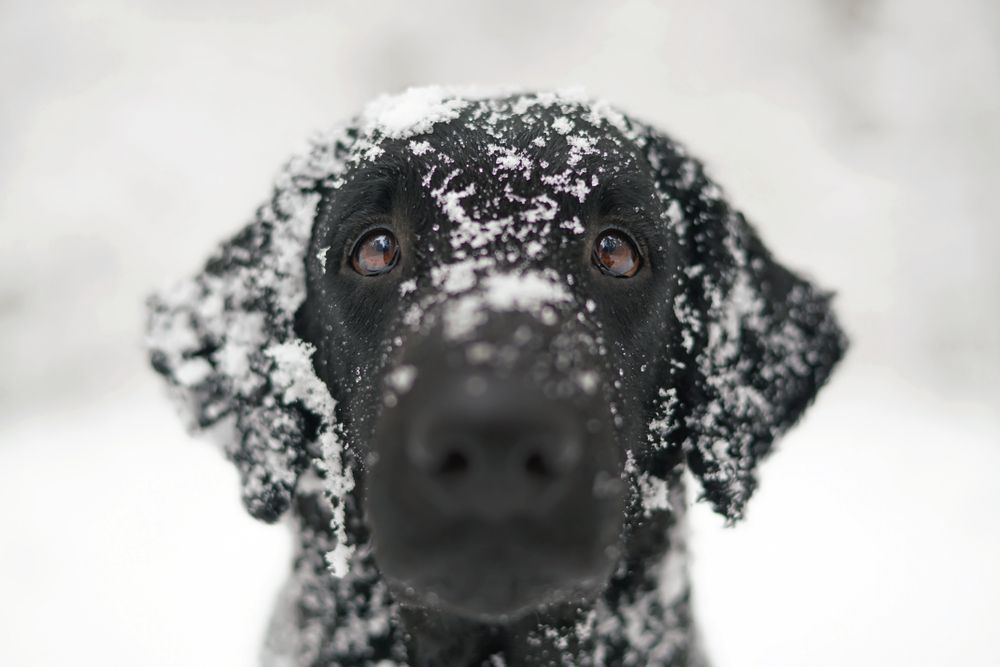 We've got some new updates headed your way on this snowy (at least for us) pre-Christmas week…
Dashboard Checklist
The first update you'll probably notice when you log in is our new Dashboard Checklist.
Even if you have been a customer for a while you might see something like this… (but of course it will be your name and not Matt - unless your name is also Matt, then you'll see we rolled out "Welcome Matt".):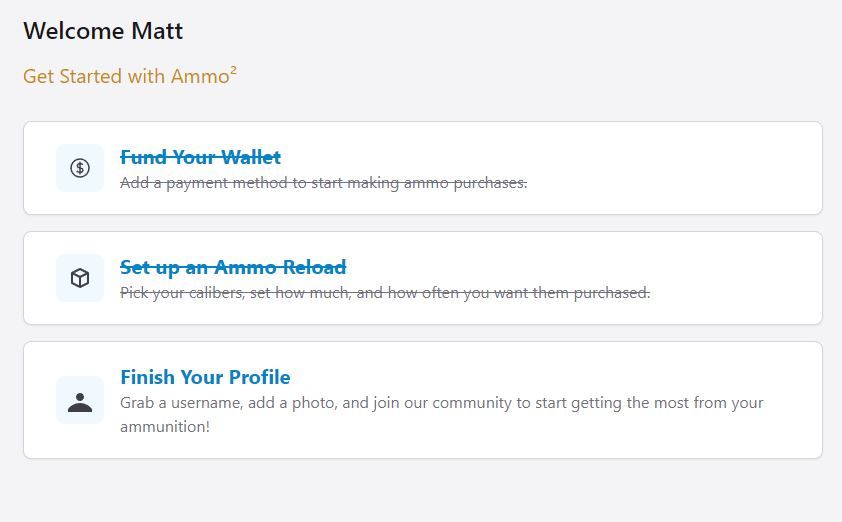 What this means is that you have added a payment method and have an active crate but haven't yet picked out a username for your AmmoSquared profile, 98% of current customers will fall in this category.
To make this screen go away so you can see your home dashboard you'll need to complete the checklist. If you only need to complete your profile, like Matt, then it will be just a few clicks and picking out a username.
If you are brand new you'll have a clear idea of what you need to do to set up your account.
Ammo2.Me Profiles
With the launch of our latest big update in September, we included the ability for everyone to pick a unique username and set up profile with a photo and bio. This update also gave everyone a public facing profile on our alternative domain ammo2.me (right now it redirects to ammosquared.com, but is a shorthand way to link to your profile). For example my profile can be found at ammo2.me/ammodan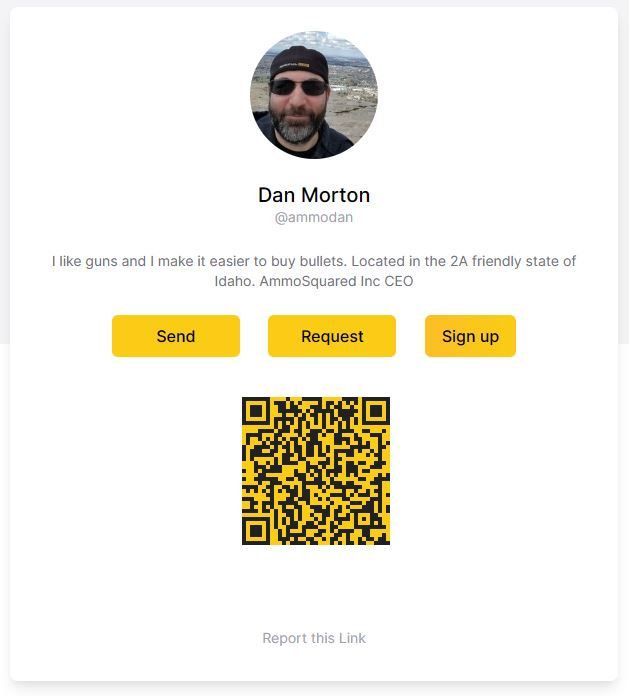 If you don't want a public facing profile, that isn't a big deal, you can turn off the public facing portion of the profile under your account settings page. There are a some cool benefits to having a public profile though so I'll mention them here:
Refer-a-Friend - There is a new "Sign Up" button on everyone's profile page that will act as a "refer-a-friend" link. Basically if someone signs up using your link then you get credit for it. We're going to start a new refer-a-friend program officially in January, but anyone that you send our way in the mean time will still be counted under that program when it launches.
Receive Ammo - The "Send" button will allow anyone with your profile page to send you ammo. They need to open an account first (just like Venmo, or any other cash app), but once they do you can freely transact in ammunition. How cool is that?
Pay with Ammo - If you owe someone money they hop on your profile and hit the "Request" button. This will give you the opportunity to pay them with some of your accumulated ammunition instead of cash.
This is just the start. In the future we'll be adding more to our social profiles that give our customers even more functionality and value. The ultimate goal is to create a community of AmmoSquared customers that can securely transact using ammunition.
Shipping Triggers
Once you create a new crate and reload or edit an existing one, you'll notice that the Shipping Triggers have changed. In fact, just as a heads up, if you edit an existing crate you will need to pick from the drop downs to choose new shipping trigger options unless you have it set to "Store and Hold".
This is really an effort on our part to simplify this part of our system and improve the customer experience. Shipping Triggers have always been confusing for people. Plus, since they were an open entry field we have people enter triggers that don't work the way they want and just made for a negative customer experience.
Now they are drop down menus with regular increments. For example both Round Count and Dollar Value are: 100, 200, 300, 400, 500, 750, 1000, … up to 3,000. Then Time Frame based triggers are: 2, 3, 4, 6, 9 & 12. Store and Hold stays the same.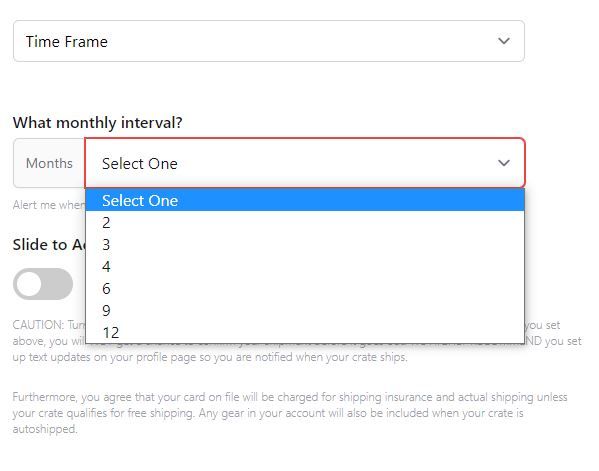 This removes two of our most troublesome triggers: $251 in dollar value and 1 month Time Frame. The $251 is frequently a problem because our Free Shipping is set at $250 so folks justifiably are trying to get just over that amount before they ship. The problem occurs when someone has spent just over $250, but when our system calculates what is actually shippable (ie: 67 rounds of 9mm in inventory only 50 is shippable), it is less than the $250 threshold for Free Shipping and they are confused and upset about their ammo not shipping.
To rectify that situation, we've updated our shipping triggers to round numbers (ie: 200, 300, etc) and will soon be making a change to the Free Shipping so it is less confusing for everyone. (Don't worry, we'll still be offering Free Shipping!)
The 1 month Time Frame trigger doesn't work with our business model and folks that choose it are generally thinking they'll get a box every month like a regular subscription box company (ie: Black Rifle Coffee, Dollar Shave Club). Since we have a "Pending" ammo process where ammo isn't immediately allocated until we have in our warehouse, the 1-Month shipping trigger will usually trigger with less than the full amount of ammo or no ammo. So we removed it again to help the customer experience and help people from being disappointed.
So all that to say that we made a few changes that might or might not affect you the next time you log in!