April 2021 Update - New Features!
Since launching our new platform in February, we've had a number of improvements on our "wishlist". This month we tackled A BUNCH of those...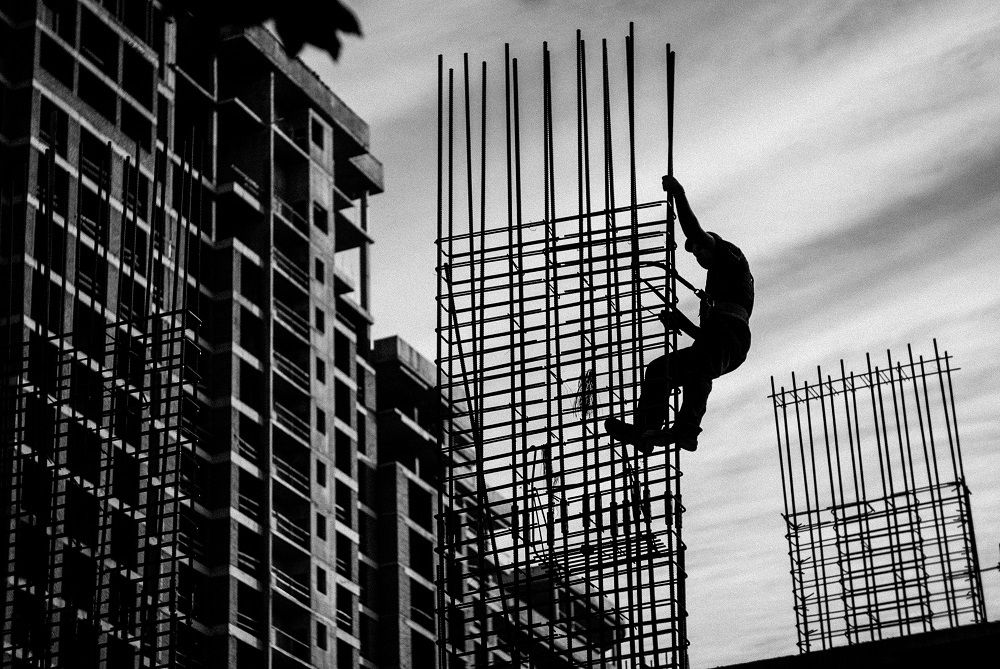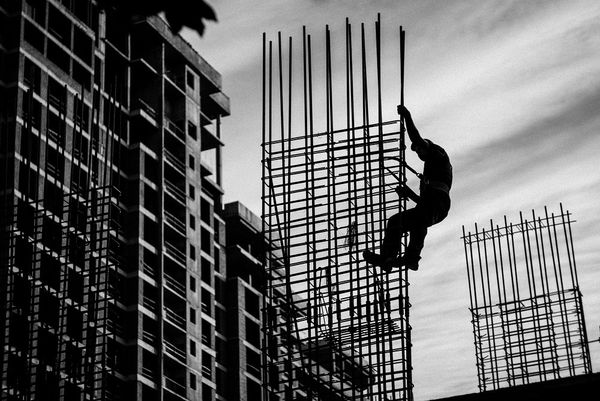 Since launching our new platform in February, we've had a number of improvements on our "wishlist". These are features that improve the user experience and make the overall platform easier to use. This month we tackled A BUNCH of those…
The first month after launch we spent the majority of our time fixing system bugs. Now that our team has those under control, they've been able to focus on rolling out new features and enhancements. WooHoo!
[BTW: if you are ever interested in the nitty-gritty details of what our tech team is rolling out, you can visit our online Changelog where we post updates pretty much daily.]
Last month I mentioned that April was going to be focused on "shipping" themed enhancements and boy I wasn't kidding! Take a look:
Ship Multiple Crates at Once: This was something that was not on the original roadmap but came about after we saw how customers were using the system. We found that customers liked the idea of dividing and naming their crates into specific themes such as "Rifle", "Pistol" and "Shotgun" or "Hunting Ammo" and "Practice Ammo", or some of my favorites: "SHTF Ammo", "Guns I Want to Buy" and "Mom's Crate".
We found that a lot of people wanted to combine their themed crates for shipping purposes but keep them separate for organizational reasons. So we built that functionality! Now, you will be able to select multiple crates that you want to ship and have it all appear on the shipping screen for you to select what you want shipped. Here is what that looks like:
[BTW: The Multi-Crate Shipping enhancement brings us closer to being able to offer a "Gear Only" crate where you can accumulate non-subscription items like magazines, cleaning kits and special purchase ammo. That improvement is now on our Roadmap.]
Ship a Specific Quantity from a Crate: This one goes hand in hand with the previous enhancement. Now, in addition to choosing multiple crates to select from, you can pick HOW MUCH of your available ammo is sent in that shipment.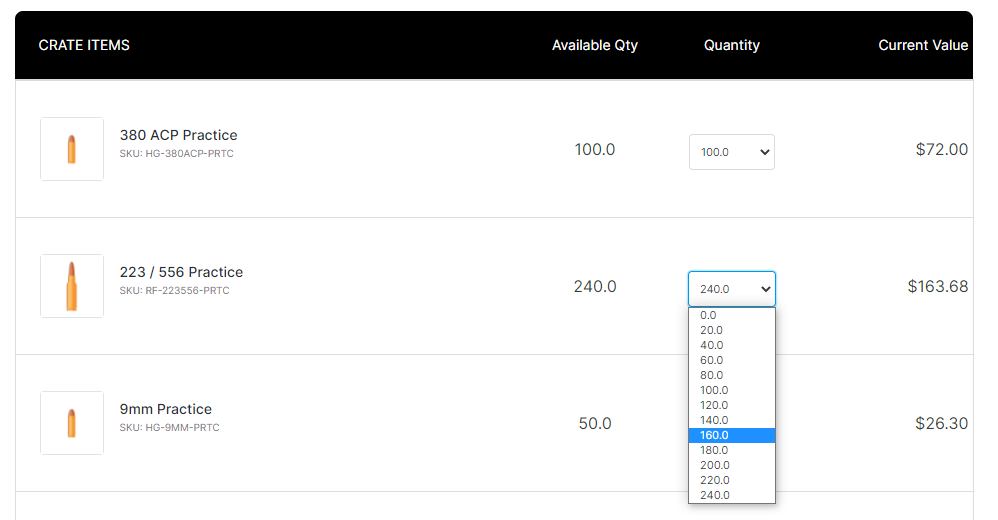 If you don't want something shipped, you just set the quantity to zero on the shipping screen. You can also set others to some level higher than zero but less than the maximum if you like. Pretty nice, eh?
Choose your Preferred Delivery Carrier: Now you have the ability to choose UPS, FedEx or even local pickup on the shipping screen. If you don't care, you can leave it as "no preference" and we'll pick the most cost effective option based on your shipment size and location. Lately we've been sending a lot of UPS shipments as they've had the best rates.
Choose your next Billing Date: Not shipping related, but related to billing, you can now change your next renewal date to anything you like. If you want to set it for a month in the future and skip this month, you can now do that without contacting customer service! This is what that looks like: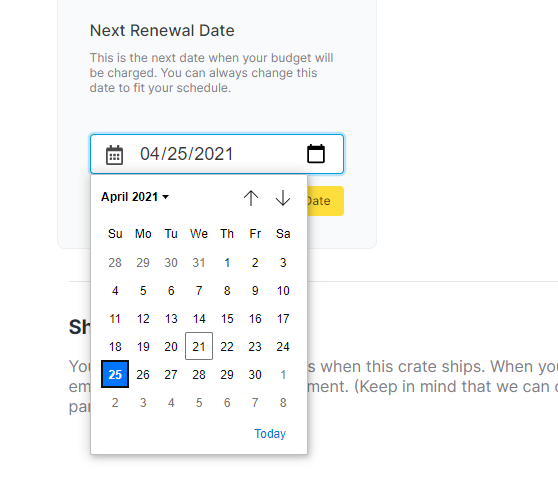 New Ammo Pricing Page: Also not shipping related, but a frequent customer request is an easy way to see all of the ammo prices at once without going through the signup flow. Now signed in users can do that. Not only that, but we also added the date of our last allocation so you can get a sense of how quickly certain calibers are moving from queue into inventory. Unfortunately, with the current ammo shortage, some calibers are just hard for us to find and will, therefore, stay in the queue longer. Now you can see if we last allocated it 4 days ago or 4 months ago and plan accordingly. This link is available at the top of your screen when you are signed in. Here is what it looks like: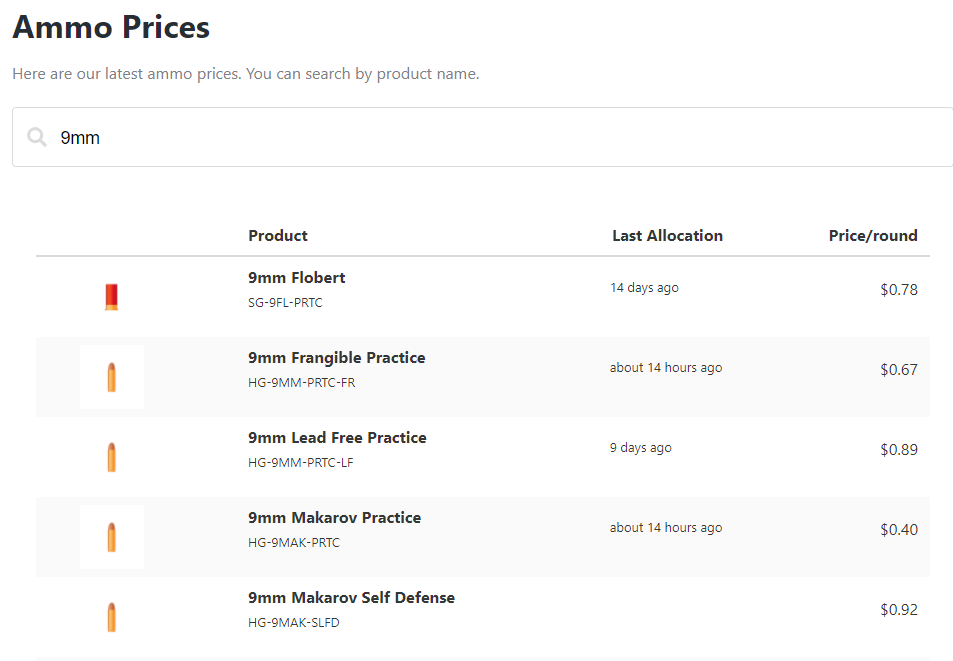 I saved the best improvement for last…
Getting Credit for Queued Ammo: Now you don't have to wait for your ammo to reach your inventory if you want to cash it out - you can do it from your Queue. Just click the "Return" button to get a credit for any ammo in your Queue: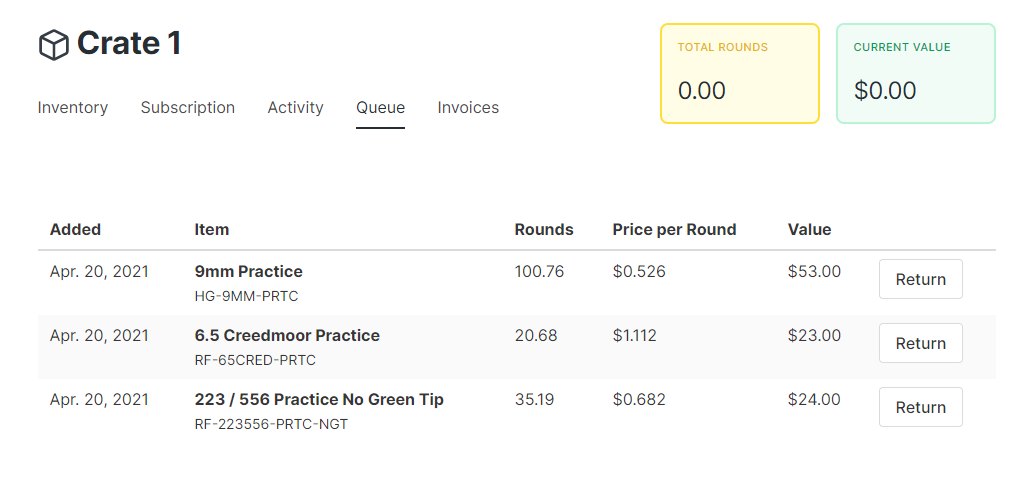 This is a useful enhancement if you want to give up your place in line for that ammo (which is what the Queue is - a way to basically reserve ammo at the price and quantity shown). We know the wait times can be long on some calibers - so now you have the option of getting a credit for the amount you paid and using that for a different caliber.
In addition to the major enhancements listed above, over the past month we've launched dozens of small fixes and tweaks to make the overall customer experience better. All of these can be found on the Changelog. (Also we're always interested in hearing your thoughts on how we can make the site better, so feel free to submit improvement suggestions using the Product Feedback link.)
Looking Ahead:
Enhancements on our plate for May include:
an updated customer-facing UI (basically make the site more functional and better looking).
updated admin portal UI for our team
add a crate for non-subscription (ie: "gear" or special purchase items)
add multiple payment methods such as ACH and Crypto
add the ability to purchase and give gift cards
The above list could change, but if you are thirsty for the latest info, you can always find it on our Roadmap.